An Introduction to Dave Hughes and his small Camp for Boys . . . . .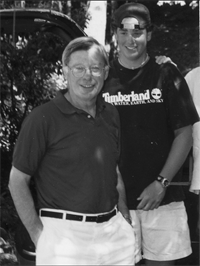 Dave Hughes is one of the truly gifted educators I have encountered in thirty years of clinical practice. His gift is simply this: he profoundly respects each child he deals with, thus teaching self-respect; he allows the child's intellect and the child's sense of fun to commingle and rejoice in one another, thus teaching love of learning; he treats each child with a gentle thoughtfulness, thus teaching the immeasurable value of kindness. Camp Masquebec Hill is a reflection of Dave's spirit and wisdom, and, without exception, every parent and child to whom I have spoken over the years about their Masquebec Hill experience describes it as a truly memorable and valuable one. — Dr. Richard Berlin, child psychologist
...a word about the essence of this camp as expressed in its logo which appears at the top of subsequent pages. When I first saw words like "values" and "altruism" in that logo, my reaction was skeptical to say the least. The former word seems vague and over used of late, and isn't the latter pretty unattainable for young boys between the ages of ten and sixteen? The camps with which I have been associated over the years, if they had a logo or raison d'etre at all, never went much beyond fun, friends, and activities. Having been a teaching colleague of Dave for close to a lifetime, I should not have been a skeptic. Having visited and observed the Camp in action, I no longer am. Dave's entire career as a teacher has been all about getting young boys, hundreds of them, to commit to more than just themselves. As aggressively as I have seen him work at this in the classroom setting, it was always at summer camp on Newfound Lake, at a place that he loves and where he grew up, that he knew boys could best learn and practice what he deemed to be the most important Big Three lifetime skills:

• good judgement
• sticking up for what you think is right
• being aggressively altruistic

This focus truly permeates a session spent at Masquebec Hill. Counselors, who have all been campers at one time, will befriend boys and help them to become better sailors or swimmers or tennis players, but they never lose sight of the Big Three and the myriad of opportunities to develop them in the overnight camp setting. In truth, Masquebec Hill has goodly amounts of the afore mentioned good fun, new friends, and activities, but it is clearly committed to more. In my observation, it achieves a good deal more.

Read Albright , lifetime teacher
For The Friends of Masquebec Hill
SAFETY, STAFF, HEALTH
There is safety in positive group tone. There is safety in a small number where each face can be read. There is safety in alertness. There is safety in being well-trained. There is safety in being prepared for the worst.We have the example of John McDugald, who embodies all of the above.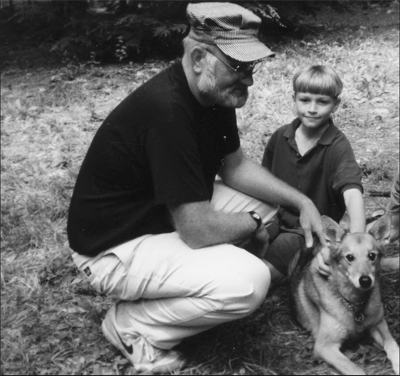 Associate Director John McDugald, who is an emergency medical technician (EMT), has anchored the Council since 1991. After a distinguished career in the military" following his graduation from West Point, John taught mathematics and science to sixth and seventh graders until his retirement in 2012. As medical coordinator with our nurse and pediatrician, As medical coordinator with our nurse and pediatrician, John insists on council alertness and absolute adherence to safety regulations, John insists on council alertness and absolute adherence to safety regulations. He also gives strong leadership on matters of health, reminding us of our obligation to take special care when living in a close-knit group. An experienced professional in middle school education, John is highly respected for his invaluable wisdom and dedication to the best Camp can be. He has been known to create excruciating treasure hunts, and he still needs a camper to convince him that the earth is round.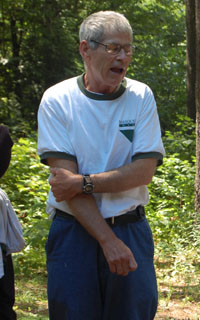 Retired Eli Lilly chemist and inventor and current waterfront director George Cullinan actually does everything and anything needed at Camp. From taking Huge's place as breakfast chef and chief morning cheerful chatterer to guiding the annual Umbagog canoe expedition to instructing sailing hopefuls to fixing everything that breaks to proffering sage advice to all of us, George is clearly a man for all seasons. Of course, although he was never a camper, George exemplifies Masquebec Hill principles of aggressive altruism, dependable values and – except when he has a can of whipped cream in his right hand – good judgment.
Counselors are former campers who have proven themselves to be effective and caring mentors. The physical and emotional safety of each camper is their top priority. Counselors take Red Cross First Aid and CPR courses. Several are trained Water Safety Instructors. One or two have Wilderness First Aid qualifications. Additionally, counselors have a week of training before the season to rehearse safety procedures and establish educational priorities.

Some Health and Safety Details:



General swims take place in a confined area under strict supervision.


Sailing, canoeing and fishing – after instruction, in properly donned life preservers, and within established boundaries – are carefully monitored activities.


Campers are not allowed at the Waterfront unless it is supervised.


Excursions away from the Camp are planned carefully by experienced leaders who take specially prepared medical kits. Hiking groups stay together with at least two counselors and a medical kit. They pace themselves according to the shortest pair of legs.


In addition to the required health history and annual physical from a child's pediatrician, each boy takes a physical examination within twenty-four hours of arriving at Camp. Linda Fischer, our nurse, first aid/CPR instructor, also an EMT, is on call, as is Dr. David Cunis of Plymouth Pediatrics, affiliated with Dartmouth Hitchcock Medical Center. We have standing medical orders from Dr. Cunis.


Hearty, well-balanced, family-style meals are planned by a professional dietician.


Masquebec Hill is licensed and inspected by the State of New Hampshire and is a member of the New Hampshire Camp Directors Association.

Download our Brochure here.